Organic Mesh Cotton Produce Bags
PB-MESH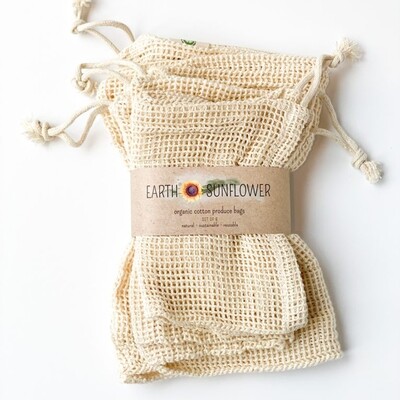 Cotton Produce Bags
Our organic, reusable mesh cotton produce bags are an easy and convenient way to minimize your single-use plastic consumption and keep toxins out of your body and the environment! Bring these mesh produce bags with you to the grocery store and farmers market and never use another single-use plastic produce bag again!
These organic cotton mesh produce bags are organic, sustainable, non-toxic and BPA free! Our reusable cotton produce bags come with a durable drawstring to ensure the storage and security of your fresh foods! Tare weight is on each individual bag. You can store food in these bags in your refrigerator.
Our organic cotton muslin produce bags are made from 100% cotton. They are certified organic through GOTS (Global Organic Textile Standard).
Your purchase includes:
SET OF 6:
2 SM Mesh (8″x10″ )
2 MD Mesh (10″ x 12″)
2 LG Mesh (12″ x 15″)
Made in: Karur, India.
How to care for / clean the produce bags:
Machine wash cold! Hang dry of dry flat. These are not pre-shrunk so please follow washing instructions carefully. Shrinkage may occur when washing, but they stretch back out when used.