Organic Cotton Make-up Rounds
MKRDS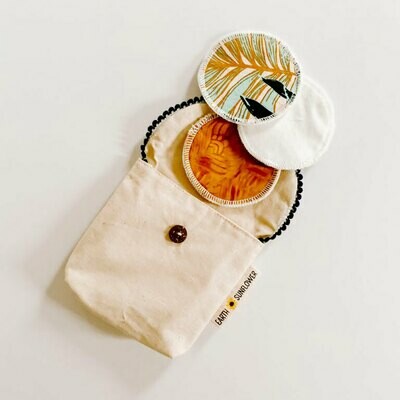 Organic Cotton Make-Up Rounds
An eco-friendly swap from single-use cotton make-up remover pads. Our Earth Sunflower organic cotton, handmade make-up rounds are reusable, sustainable, and easy to use!
A set of 12 organic cotton reusable make-up rounds also includes a handmade travel bag with two pockets. One for clean make-up rounds, one for the used. Take them with you on-the-go or enjoy them at home!
Perfect for toner, make-up remover or liquid face wash!
Machine wash cold, tumble dry. Certified GOTS organic.
Most importantly: These are hand crafted and made with love by local women in Bali, Indonesia (featured!). You can see the picture of them hand painting the logo here! Your purchase helps support their livelihood and craft.